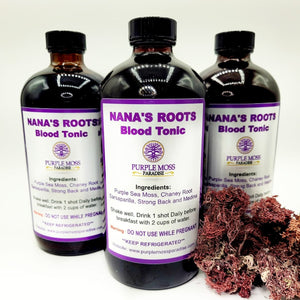 NANA'S ROOTS BLOOD TONIC 
Nana's root's blood tonic is a Supreme Decoction made from some of the richest sources of Iron other key minerals currently known in Jamaica and the planet. We have compounded Wild Jamaican Sarsaparilla, Chaney Root, Strong back, Medina and infused trace minerals from our responsibly harvested Purple Sea Moss. This product is created to be a Supreme form of mineral rich dietary supplementation and not a replacement for good habits or the bodies natural functionality. The benefits are nutritional and supportive of the body's circulatory and immune systems therefore promoting healthy bodily functions overall. Iron when activated by Citrus/Vitamin C then becomes magnetic within the body and attracts the trace minerals we need to where they are needed most in the body. Further benefits include Antioxidant, antibacterial, antiviral, Digestive aid, and energy booster. There are no preservatives of any kind used in our formula. The product has been tested to be stable and potent for up to 3 months when refrigerated. NOT RECOMMENDED for pregnant women as there isn't enough research to prove any value or detriment.
Our tonics are made to order in our Lab. They are created in our large temperature controlled kettles to preserve the bioavailability of the phytonutrients in the roots and herbs. We estimate a 1-2 week process between preparation and shipment and aim to refine that as we go.
Our usage recommendation is to add 1 table spoon of PMP African Baobab Fruit powder to 16 oz of water and drink it after the tonic in the morning. Use up to 1 Fluid oz or 30 ml of tonic. This can of course be decreased according to your preferences and body response. Baobab powder can be substituted with Lime/Lemon. Like with anything having a clean colon is key to proper absorption and metabolization. Nana's roots is intended to be a compliment to a healthy lifestyle not a crutch for bad habits. You don't have to be fully plant based when using it but it helps a lot.
For any further questions please feel free to email us at purplemossparadise@gmail.com.
Disclaimer:
This product has not been evaluated by the FDA and is not intended to diagnose, treat, cure or prevent any disease.  Seek medical consultation before using any herbal supplement.